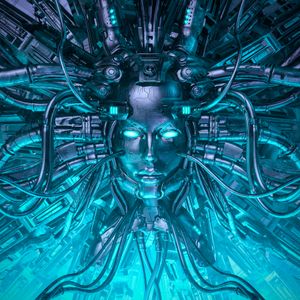 In his latest collection entitled ZENTRONIQUE, musical artist Michael Regina takes us on a journey, but not an out-of-this-world exploration as in his previous work. Here, Regina is planted firmly in this world; the daring possibilities, the crushing realities and everything in between. Think mystical rather than celestial. Think head space instead of outer space. 
His genre-defying ZENTRONIQUE harkens back to a genesis where all things are possible, but, ultimately, where beauty and contentedness are not guaranteed. The first song on the album, Frontiers, is sweeping and epic and almost cinematic in its scope. Imagine emerging from a dark, forested cocoon into an expansive pastoral plain where both land and sky are abundant and all paths hint at magical, mysterious, breathtaking opportunities to come. It conjures everything from birth to coming-of-age transitions; the world is magnificent, all is possible. 
His next song, The Gates, continues the theme of emergence, the onset of a wondrous journey along an unencumbered, ethereal path. Here, the traveler (listener) encounters no solid obstructions, and instead simply follows flowing openings from one setting to the next at a steady, rhythmic pace. Breathe in, breathe out; anything imaginable is attainable. 
Alas, a wistful sentimentality surfaces in All Good Things, suggesting notions of remembrance, regret, yearning and a hint of melancholy. Life is somewhat back on track in Connections, with a pulsating, almost echo-y vibe. Just chugging along … going through the motions while suppressing the emotions. Embracing the mindset required for the existential condition. Next, there's a throbbing intensity in the dream-like Human Condition, alternating between a paralyzing somber element and a frenetic, feverish worry. Existence, it seems, ensures suffering in the human world. 
The title track Zentronique offers a "trippy" escape; it's throbbing and sensual. Fear is on the back-burner, imbuing a confident-if-wary, enlightened 'tude. The club beat in Maxim M Chill is funky, urban and playful - an earthy, secular, lusty call-and-response tease. Regina is having fun here; he's in his element, mixing moods and challenging his listeners to go with the flow. In the Ether continues the whimsical vibe, offering a syncopated beat and an otherworldly expansiveness. Here, we're soaring, gliding, reaching - with not a care in the earthly world. 
But then a transition; the come-to-Jesus (or come-to-whomever) moment happens in Hybrid, with an almost angelic summon to an altar of spiritual reckoning. The theme continues in Communion, which is at once pastoral and calming, but also charting a clear, assertive procession toward something more meaningful and substantial, perhaps posing the concept that there is divinity beyond this earthly realm. 
And then the culminating track - Hello Together - a-love-song-without-lyrics, suggesting that love is the balm that offers respite from this weary world. There's a timeless quality to this lyrical track; it conjures a hand-in-hand trek along a precarious yet stunning mountain trail, safe for the time-being, yet open to adventure and beauty and the accompanying potential for peril and loss. Love - in all of its forms - is, after all, at the heart of the deal we all make with the universe in our pursuit of a meaningful earthly life. Who knows if there's more to come, but Hello Together suggests that for the promise of love, we're willing to take our chances in the here and now.
ZENTRONIQUE is now available on most download and streaming services.