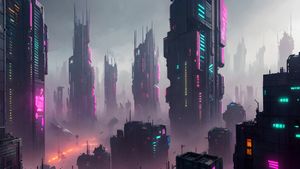 BEYOND THE PALE - a futuristic musical tale...
 Ultra - This song introduces the album's starkly apocalyptic theme, with forbidding, authoritarian, almost mocking, cackling voices amid a staccato beat. There's a plaintive, almost-optimistic push back, but a world-shaking control seems to be gaining momentum. Pulsating. Fatalistic. Moody. There are dark and menacing strains, intermixed with a faint plea for hopefulness. Think 1984. Humanity comes face-to-face with its own dystopian future, where ultra-high-tech clashes with ultra-low living. 
Crystalline - A rather pretty and rhythmic piece - the stuff of life "crystallized" - suggestive of heartbeats, footsteps, timepieces, pulsating attraction - much less ominous than the album's first song, Ultra. Consciousness can sometimes be influenced by all sorts of beautiful distractions. 
To Be Home - This song features a melancholy thread, a tangible longing for something lost. Slow, methodical playful piano steps, then the idea of clapping hands keeping time. A return to something comforting, not the abyss suggested in Ultra. There's a sense of an almost childlike rocking …. persistent, repetitive, innately comforting. This song suggests a time to reflect on better days and innocence past, and to mourn freedoms lost. 
By Design - A song that is sultry and soulful with - dare I say - a suggestion of a disco beat. Pure escape. The lush moaning is sexy and driven. Sure, there's cultural decay and anarchy in our world, but we're basically still humans doing our thing, almost on a primitive level. Ah, but there's a deepness here, too (providence perhaps?). It's meditative and contemplative, possibly suggesting that what we perceive as coincidence is often part of a higher plan. 
The Precipice - Instantly, we're met with an intense, percussive crashing of waves, as if we are bracing ourselves in a violent storm at the edge of a rocky cliff, staring into the unknown. It's scary as hell, but there are ethereal voices in the background - mysterious, but somehow reassuring. The commingling of fear and anticipation is practically palpable. We're up to the task. It's a time of resolve; the consciousness is awakening. 
Beyond the Pale, the title track, offers a sweet, almost innocent realization: Imagine skipping along a path to a place that, while perplexing, is none too scary. And then pushing on, daringly, dauntlessly along this novel but welcome path. Unhurried. Unafraid. An emerging individuality in a world of conformity sometimes brings forth a new direction, an innovative form of leadership. 
Dim the Sun - Ok, now we're fully experiencing a harsh world, in the midst of a superstorm. Hear the wind, the thunder, the forbidding organ music. Feel the welling up of tension, the crescendo of impending calamity, the sense of inevitable … and then the symbolic parting of the clouds, the sun breaking through to a new dawn - so beautifully life-affirming. It seems that when nature is challenged, a cataclysmic event is imminent. 
When We Rise - It's as if a metaphorical train is reaching the station and we're entering a newfangled world. There's trepidation; it's unfamiliar, but somehow still extraordinary and beautiful. Discovery. Clarity. Momentum is building. Perhaps it's good to be here? An optimist's take: It's the aftermath and we must rise to rebuild. This song reassures us: Surely we can make it! 
Passages - Quiet awakening. Hushed whispers. A regal procession. Rat-a-tat footfalls parading forward. Clearly, a triumphant spirit has been rekindled. This song promises the beginning of a long, arduous - but ultimately hope-filled - journey to a new horizon. 
No Stopping Us - A lilting, gentle song that reveals a reinvigorated mankind effortlessly pressing forward with a sense of serenity. Almost conversational female and male voices can be heard in the background - reassuring somehow. "Don't you know this is good for us? We're not alone here." Faith, it seems, can carry the human spirit through the darkest hours. 
Space for the Soul - This culminating song on the album conjures a bit of everything stylistically, from rock-n-roll to blues to psychedelic. Then it revs up, infusing a boogie beat (so frigging satisfying, when it comes right down to it). Energetic. Rhythmic. Rocking. Soulful. Funky. This is pure fun. Roll the credits; watch the outtakes. Turns out there's room for all of us here - and life is pretty good!
BEYOND THE PALE is now available on most download and streaming services.