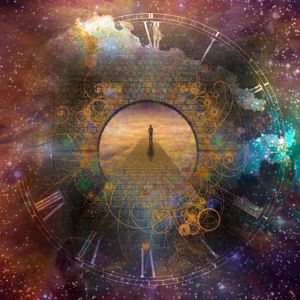 South Jersey musician Michael Regina doesn't go into his home studio with a preconceived concept. Rather, when the creative bug starts to bite, he gives in to the pesky muse and allows it to lead him to a theme. He was a few songs in on his latest album by the time a recurring thread made itself known: Time. It's limitations, it's persistence, it's fragility, it's ethereal nature, it's hold on us all. It's here-one-minute-and-gone-the-next essence. Time is at once palpable and yet intangible. It can loom sluggish and heavy, or it can flit by in an instant. We embrace it, we waste it, we anticipate it, we regret it, we fritter it away, we long for another go at it. We can't touch time, but it most certainly touches us. 
True to his mercurial, New-Age-y spirit, Regina embraced the conceit and his latest album TIME'S ILLUSION emerged as a cohesive motif, with a pattern, a cadence, a clickety-clack assurance that time marches on, that life keeps flowing along no matter what we mere mortals do. 
The Chosen Few is haunting and pretty, with an ethereal feel. But there's a dark undertone, possibly pointing to the traps we fall into when we choose to surround ourselves with only 'the chosen few.' Here the rat-a-tat-tat rhythm is established, suggestive of being in lockstep. Frequencies includes a measured beat as well, but It's a soft, mellow, sweet piece that evokes a place or time that's been particularly satisfying. 
There's a sad, wistful quality to Days Gone By. One envisions scenes from the past and there's a suggestion of longing for someone or something gone forever. Time is slipping away and this song conveys a gentle tip of the hat to days of yore. Time and Again is almost a waltz, hinting at a back-and-forth, face-to-face progression of lovers across a dance floor. It's mood is pulsating; the couple is in synch and experiencing life in the moment. Here, briefly, time seems to stand still, to exist only in the here and now. But listen closely and you'll hear the sound of an alarm; this precious moment - like all moments - will soon cease to be. 
The beat is slower in Noctis Decus, which translates to the splendor of the night. Again, there's a pulsating, dream-like quality to this song. Here, we're taking our sweet old time - and it's a pleasure. The opening to Remembrance is fluttery - perhaps suggesting a hesitation to revisit the past. But then the beat picks up confidently, confronting memories head on, with an almost finger-snapping feel to the beat. There's a joyful aspect to this reminiscence. 
Unity Quest pulls the listener in almost at the get-go. It's epic and sweeping, a style that is definitely at the heart of Michael Regina's musical wheelhouse. One can sense the trepidation in Smile Through Sorrow, a song that evokes the act of moving slowly but surely in the direction of sadness, of confronting the inevitable reality of grief. But it's a gentle movement toward acceptance of the universal truth - that suffering is part of life. And that finding a reason to smile through it all can be quite healing. 
A Traveler's Tale conveys the feeling of a leisurely journey, of a world-of-wonder opening up before us. Perhaps it's suggestive of the path we all must travel on the road of life. Here, the beat is as precise as a metronome - or a beating heart. Beautifully predictable. In this case, the traveler is enlightened enough to go with the flow on life's journey. 
Regina is being playful with the title of his tune Shrouded in Light. It starts out gauzy and glowing … ah, but things aren't always what they seem to be. Before long, it's apparent that the mood has turned most decidedly gloomy. This song suggests something mysterious and otherworldly - a blending of a Gothic and a Middle Eastern vibe, perhaps. It's a fun listen, despite it's solemn tone. 
Whimsical and expressive - that's the takeaway from the final song on the album, The Fortress. Here the beat is suggestive of a march, lead by the sweet, clear, wind-like sound of a piper piping an ancient flute. The vibrations in this pleasant piece are as rhythmic as the breath in our lungs, and the sound is as classic as it is timeless. 
Which is rather fitting for an album called TIME'S ILLUSION.
TIME'S ILLUSION is now available on most download and streaming services.